Chicken Supreme
This is the recipe we demonstrate at all our events.
This dish looks beautiful, smells terrific, and tastes great!
Recipe by: www.BensonsGourmetSeasonings.com
Number of Servings: 4 | Prep Time: 1 hr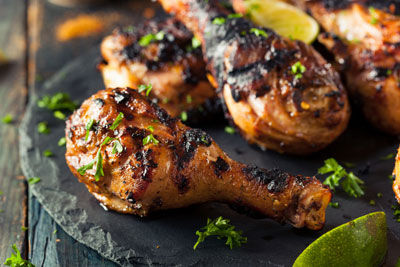 You will need:
1 2-1/2 -3 pound Chicken, cut-up
1 Tablespoon #110 Supreme Salt-Free Seasoning, divided
2 medium Onions (1 yellow, 1 red), coarsely chopped
1 medium Green Bell Pepper, seeded and sliced
1 medium Red and 1 Yellow Bell Pepper, seeded and sliced
2 medium Zucchini squash, trimmed and sliced
1 stalk Celery, sliced
1 medium Carrot, peeled and thinly sliced
8 ounces Fresh Mushrooms, sliced (optional)
1/2 cup Dry White Wine (Chablis), chicken broth or water
Cooking Instrutions:
Preheat a 12-inch non-stick skillet over medium-low heat. Place chicken skin side down. Use no oil. Put about 1/2 of a chopped onion & 1/2 green bell pepper sliced, in spaces. Sprinkle all with 1 tsp. seasoning. Brown well about 20 minutes. Turn chicken. Sprinkle with 1 tsp. seasoning. Brown about 20 minutes. Add vegetables. Sprinkle with remaining 1 tsp. seasoning. Stir occasionally so vegetables cook evenly. Cook about 20 minutes longer. Do not cover. Add wine (liquid) the last 10 minutes. Serve with or over rice, noodles or pasta, or just as it is. Make it colorful & enjoy!
Want great new recipes delivered right to you?
Learn how to create more flavor.
Each Newsletter includes a new recipe.