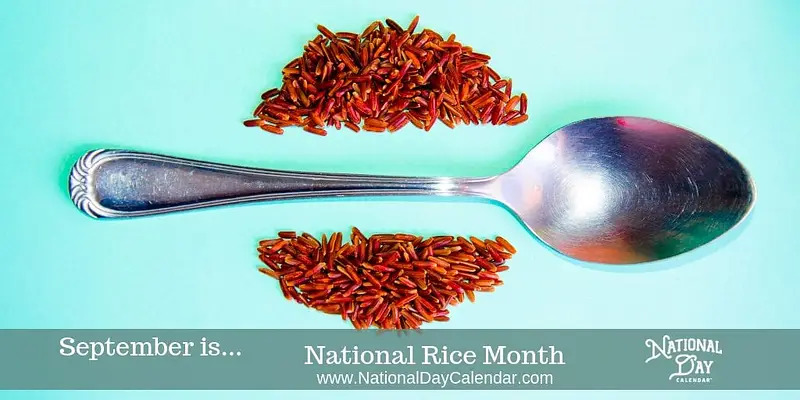 NATIONAL RICE MONTH
We celebrate National Rice Month throughout the entire month September. With over 40,000 kinds that grow on every continent, except on Antarctica, we have 30 days to discover as many varieties as possible!
Rice is the oldest known food still consumed today. Rice was first grown about 130 million years ago in the south-eastern part of Asia. The Chinese word for rice is the same word used for food. However, rice is more than food; it's part of the national culture. Many cultural customs date back to the days of wet rice cultivation. The historic commitment to group harmony is a predominate custom of the original culture for communal rice cultivation. In China, young girls are told that they must eat all the rice on their plate because each grain of rice represents a pockmark on the face of their future husband! Interestingly, Chinese and Japanese heritage both cultivate rice as a part of their culture.
Rice-n-Roll
Rice is the second highest grain produced worldwide after maize (corn). Nearly 85% of rice consumed in the U.S. is grown domestically is six states: Arkansas, California, Louisiana, Mississippi, Missouri, and Texas. Rice is a complex carb, low in fat, making it very healthy to eat!
There are four types of rice and each is different from one another:
White rice is the most common and the inferior rice of the four. So, unlike other rice varieties, white rice has little nutrients, making it the least healthy.
Brown rice is a whole grain rice rich in thiamine, iron, and zinc. Because of this, brown rice has a chewy texture and gives a fuller feeling after eating.
Black rice full of rich nutty, earthy flavors. Interestingly, scientists classify black rice as a different species from white and brown rice. On a nutritional level, black rice is an excellent choice for diabetics, as it has a very low glycemic index.
Red rice is similar to black rice on the nutrient scale, except it provides more antioxidants to the body. The antioxidants found in red rice attribute to the rich red color of the rice.
HOW TO OBSERVE
There are several ways to celebrate National Rice Month. Preparing some jambalaya, fried rice or rice pudding for the family is a great way to celebrate at the kitchen table! While shopping for rice, look at what varieties available. Mix and match to create your own delight!
Use #NationalRiceMonth in social media correspondence.
HISTORY
U.S.A. Rice designated September National Rice Month to encourage the use of the small but mighty grain in our daily dining.