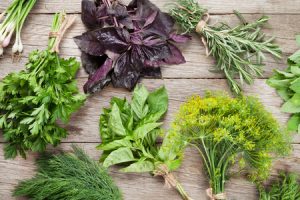 When you're cooking a meal and trying to add some flavor to it, salt is probably one of the first things you reach for. But eating too much salt day in and day out can be very bad for your health. It's why you should make every effort to season your meals without salt whenever possible. Here are some good ways that you can do it.
Give dry herbs and spices a try.
Salt is far from the only thing that you can keep in your cupboards for the purpose of seasoning food. You can also keep all kinds of dry herbs and spices around to make the flavors in your meals pop. From dried oregano, thyme, and cumin to cinnamon, nutmeg, and allspice, there are lots of different options for you to choose from when preparing meals. They'll prevent you from relying too heavily on salt.
Add fresh herbs to the mix.
If you know that you're going to be cooking a specific meal tonight, why not head to the grocery store ahead of time to pick up fresh herbs that will pair nicely with it? You have a variety of fresh herb options, including chives, parsley, basil, cilantro, mint, and more. When used right, these fresh herbs can deliver the flavor you need without subjecting you to salt.
Keep salt-free seasonings close by.
Did you know that there are a bunch of different salt-free seasonings that you can incorporate into your kitchen that will turn salt into a distant memory in no time? You won't miss salt in the least when you have seasonings that you can use on chicken, meats, vegetables, fish, and so many other foods.
People who have been using salt for years to season food often have a tough time laying off it. The salt-free seasonings available through Benson's Gourmet Seasonings will make your salt cravings a thing of the past. Call us at 626-969-4443 today to order one of the many salt-free products in our inventory.