Hello and Welcome Everyone,
When it comes to parties and dips Guacamole dip is one of the most requested. It is made with fresh avocados and fresh ingredients which will help keep it low sodium. However, a low sodium dip is not usually served at parties. Guacamole dip can be high sodium by adding salt, a commercial seasoning packet, hot sauce which is usually high in sodium or a combination of these. As you can see, this naturally low sodium dip can easily become a high sodium dip. Then serving salted tortilla chips can push the sodium over the top. Keep it fresh, natural and low sodium.
I confess, until a few years ago I didn't like avocados except in guacamole. Not eaten out of the skin, not sliced on a sandwich, or as a condiment on chili or an omelet, or even a salad, but I loved guacamole. This was more of a texture thing I think, maybe a flavor thing, I don't really know. I just didn't like them. Everyone in my family and friends were always shocked when they would watch me pick the avocado out of my sandwich or whatever had it on or in. I always offered it to them, so it was never wasted.
It wasn't until about 10 or 12 years ago, when a vendor at the Irvine Farmers Market (was a friend of my brother who loved avocados), introduced me to the Reed. I loved it at first bite. Then my good friend Vicki of Bernard Ranches at the Pasadena Farmer's Market reintroduced me to this amazing avocado. I was so happy. I'm not sure what is was but this a avocado has such a special creamy texture, a buttery and distinctive flavor which turned my taste buds around.
The Reed is one the largest avocados (about the size of a softball) with a strong skin, you can eat or serve out of the skin like a bowl. Because of their size and weight, they are more expensive but worth it. Look for them in mid to late summer and early fall. Don't procrastinate because their season is short. Some stores will carry them like the Whole Foods Market, otherwise try local farmers markets. I think the Reed avocado is the best. Look for them next season.
Avocados are an amazing fruit with many health benefits:
Helps prevent Prostate Cancer
Helps Prevent Breast Cancer: High in oleic acid
Helps Maintain Eye Health As We Age: High in the the carotenoid lutein
Helps the Absorption of Fat-Based Nutrients: Especially lycopene and beta carotene (great idea to combine avocados and tomatoes)
Helps Lower Cholesterol: High in beta-sitosterol
Helps Prevent Stroke: High levels of folate
Helps Your Heart Stay Healthy: 23% of the recommended daily value of folate
Great source of Glutathione: Important antioxidant which helps prevent aging, cancer and heart disease
A Rich Source of Vitamin E: One of the best fruit sources of Vitamin E
Anti-inflammatory properties: A big help for arthritis sufferers
Avocados have gotten a bad reputation because of their fat content. Research shows the fat is a healthy fat. Do your own research and you will be surprised at all the health benefits of avocados.
There are hundreds of varieties of avocados. It's amazing that 95% of avocados sold in the US are grown in California and about 90% of those are Hass. That's why so many think there in only one type of avocado or 2 if you consider ripe and unripe.
Here are 7 more varieties of avocado commercially grown to make the top 8:
Bacon, Fuerte, Gwen, Reed, Lamb Hass, Pinkerton and Zutano.

Guacamole Dip Recipe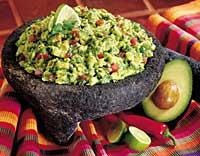 4 Large ripe avocados
1 Medium Roma tomato, seeded and diced
1/3 cup finely chopped white onion, or red onion, peeled
½ cup chopped fresh cilantro leaves (or fresh parsley leaves or ½ and ½) no stems
¼ cup fresh lime juice or lemon juice
2 Serrano chilies, or 1 jalapeno seeded and finely minced
Freshly ground white pepper or black pepper, to taste (optional)
½-1 teaspoon Table Tasty salt substitute, or to taste
½ teaspoon Bravado chili seasoning or to taste (optional)
Cut the avocado in half. Remove the pit. Gently with a spoon, scoop the avocado out of the skin and into a medium bowl. Get as much of the dark green next to the skin as you can, this is where much of the nutrition lies. Mash with a fork, until somewhat smooth with small chunks. Add tomato, onion, cilantro, lime juice, minced chili and freshly ground pepper. Stir to combine. Add Table Tasty, stir and taste. If you want this to be a little spicier add our Bravado chili seasoning. Stir and serve.
Note: Sometimes guacamole can start turning a little dark, which it still tastes good. Just stir it up again.
Serve with unsalted tortilla chips or Crudités which is a French word for raw or lightly blanched vegetables served in bite-size pieces like carrot sticks or cauliflower florets, often served with a dip or dressing. Try thinly sliced Jicama (it's crunchy like a chip)
Makes about 8 servings. Enjoy!
I hope you have found this information helpful and will add avocados to your diet. Remember there are more than Guacamole is a nice way to include them.
Click this link to read previous Season-It Newsletters and Low Sodium Articles for more information.